Come to Dorr and Save More!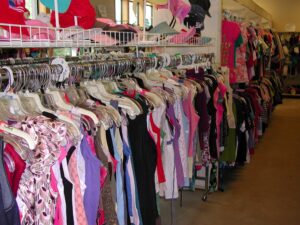 If you have never been to our Thrift Store, make plans to visit! We have 4,000 sq. ft. of retail space and it is packed full (but neatly) for your shopping pleasure! The prices are great, just like the old-fashioned thrift stores that used to give good quality at a great price!
All funds raised from Annetta's Garage directly fund the operations of the Annetta Jansen Ministry Center.
Annetta's Garage Thrift Store is open to all who like to get GREAT deals! Items offered are clothing, shoes, household goods, linens, furniture, appliances and much more.
Thrift Store Hours
Project Hope Thrift Store
Monday: 10 am – 5 pm
Tuesday: 10 am – 5 pm
Wednesday: 10 am – 5 pm
Thursday: 10 am – 8 pm
Friday: 10 am – 5 pm
CLOSED SATURDAY & SUNDAY
Calendar of Annual Sales
Closed New Years
January 2, 2023
Cabin Fever Sale
January 16-20, 2023
Follow Your Heart Sale
February 13 – 17, 2023

You're in Luck Sale
March 13 – 17, 2023
Fabulous Friday
March 31, 2023
Closed Good Friday
April 7, 2023
Flowers are Blooming Sale
April 10-14, 2023
Garage Sale Days
May 16-19, 2023
Closed Memorial Day
May 29, 2023
Summer Fun Sale
June 19 – 23, 2023
Fabulous Friday
June 30, 2023
Closed Independence Day
July 4, 2023
Beat the Heat Sale
July 10 – 14, 2023
Back To School Sale
August 7 – 11, 2023
Closed Labor Day
September 4, 2023
Falling Leaves Sale
September 18-22, 2023

Fabulous Friday
September 29, 2023
No Tricks-Just Treats Sale
October 23 – 27, 2023
Save a Lot of "Doe" Sale
November 13 – 17, 2023

Closed

Thanksgiving Weekend
November 23 – 24, 2023
All I Want Before Christmas is a Sale
December 11 – 15, 2023
Closed Christmas Day
December 25, 2023
Fabulous Friday
December 29, 2023