Project Hope is a 501-C3 non-profit organization.
Your help is such a blessing! Donations can be mailed to:
Project Hope of NE Allegan County
PO Box 241
Dorr, Michigan 49323
Online Financial Donations
We use PayPal to safely and securely process all credit card donations online. You DO NOT need to set up a PayPal account to make a payment. You can use your credit card to pay via PayPal without setting up an account. Click on the "donate" button below if you'd like to make a financial contribution.
---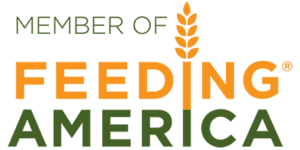 Another way to contribute financially is through the Feeding America West Michigan. To donate on Project Hope's behalf, be sure to use our account number is #01928 in the space provided.
---
Annetta's Food Pantry Donations
Food donations are accepted during normal business hours. Please see specifications on our Food Pantry page.
Donation Guidelines
Project Hope is accepting donations. Due to decreased manpower and limited space we are accepting donations on Mondays and Wednesdays from 9:30 am – 4:30 pm and Thursdays from 12:00 pm – 6:30 pm.
For the safety of our employees, volunteers and donors, we ask all donations be in a box or a bag and to be separated by category.
Please pull up behind our thrift store and drive to the end of building. Our receivers will greet you and help place your donations into appropriate bins. Bins will be labeled – CLOTHING – LINENS – TOYS –HOUSEWARES – OTHER.
Thank you for your understanding and help in processing donations!
Donation Hours
Monday: 9:30am-4:30pm
Tuesday: CLOSED
Wednesday: 9:30am-4:30pm
Thursday: 12:00pm-6:30pm
Friday: CLOSED
CLOSED SATURDAY & SUNDAY
Donations of household goods, clothing and decorative items are accepted during donation hours. We are no longer accepting donations for the following:
Large entertainment centers
Exercise Equipment
Mattresses (except infant)
Old TV's (Large)
Old printers
Auto parts and tires
Bunk beds
Computer parts
Text books: college or public
R & X-rated or sexually explicit items
Pets, living plants
Water beds, hospital beds
Outdated satellite dish systems
Console TV's or stereo items recalled by manufacturers
Car seats, car booster seats, side-drop cribs
Paint, chemical liquids, fuels, cleaners
Bags/boxes that are wet, muddy, or dirty, used building materials
Used toilets, tubs, and sinks
Encyclopedias
Items with missing parts
Used hot water heaters
Water softener systems
Organs and old style pianos
Thank you for blessing us, so that we can bless others in the Name above all Names, Jesus Christ!