IT ALL STARTED WITH AN ORDINARY WOMAN WITH ORDINARY TALENTS… THAT SERVED AN AWESOME GOD, WHO DID EXTRA ORDINARY THINGS THROUGH HER!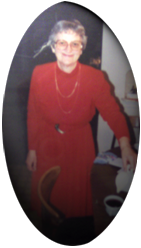 The Annetta Jansen Ministry Center Story
Annetta Jansen began her ministry in the 1950s as a labor of love to help individuals and families with needs in her community.  She shared food and clothing, as well as offered a cup of coffee and a prayer to all who came to her door.  Annetta was diagnosed with cancer in 1996 and could no longer continue the ministry.
Annetta's ministry was merged with Project Hope, which had been organized in 1994 as a long-term self-help mentoring ministry.  The first Project Hope Annetta Jansen Ministry Center opened its doors in 1997, just three months after Annetta went home to be with her Lord.
It was soon realized that the current building on 142nd Avenue was limited in meeting the needs of a growing ministry and a changing community. Plans for a new facility began with a generous land donation in 2002 and was completed in the spring of 2007.
In 2008, another addition was approved. An expansion increased the Thrift Store to 4,000 square foot and made way for a larger donation processing area.  The food pantry was also expanded and a storage warehouse was included to help us serve approximately 500 clients per month.
Today Project Hope of Northeast Allegan County, Michigan exists as a multi-faceted ministry, serving the whole family and the community.